Three Patient Advocacy Award Winners and One Sponsor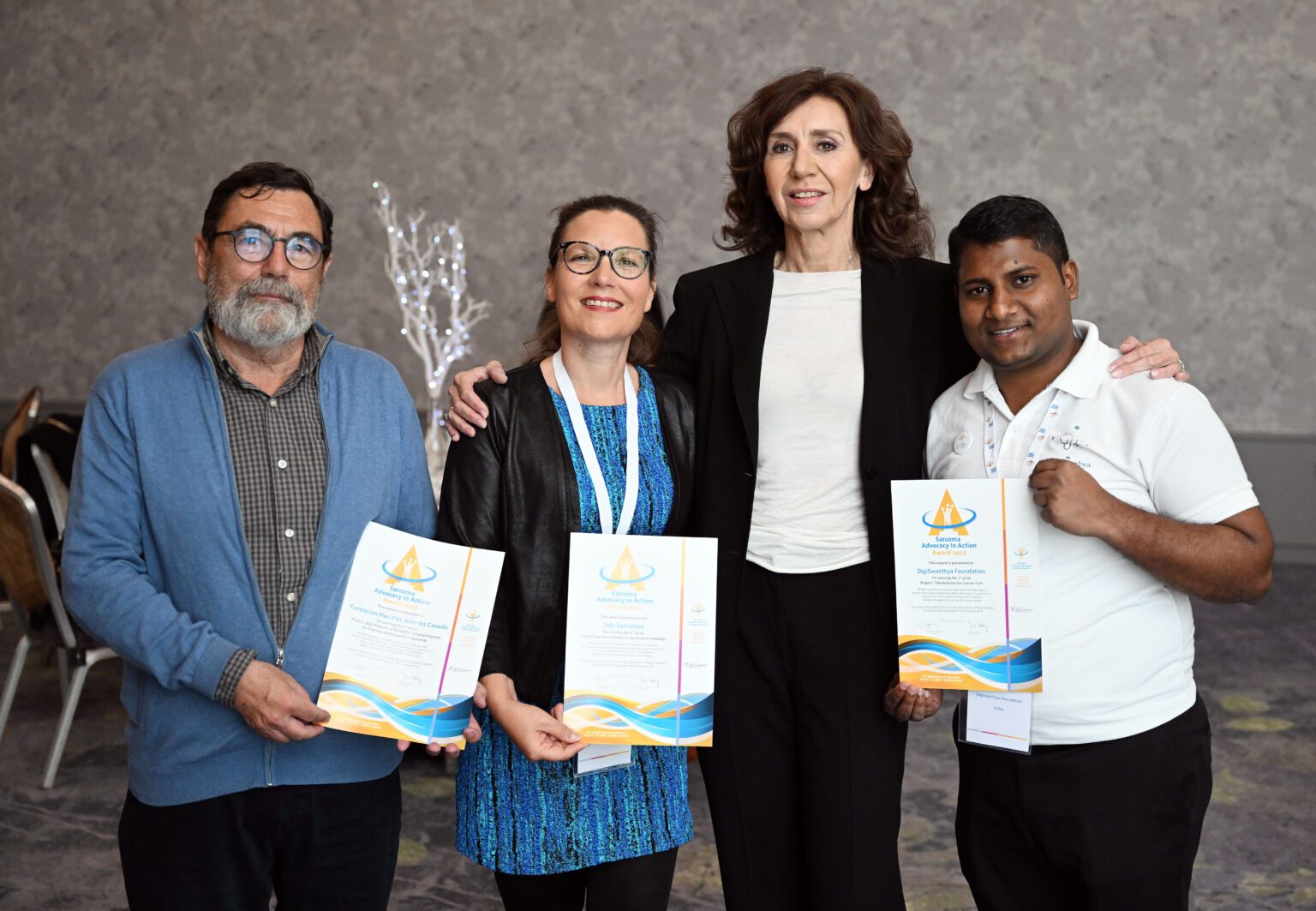 Making a difference – the people behind the awards
BY GABI OTT, SPAGN Volunteer, Editor in the Voices of Sarcoma team.
Three truly impressive initiatives received this year's Advocacy in Action Awards of the Sarcoma Patients Advocacy Global Network (SPAGN).  The winners were announced at the annual SPAGN conference in Dublin in May 2023 by Dr. Ornella Gonzato, founder and president of the Paola Gonzato-Rete Sarcoma Foundationand member of the SPAGN Board. She has also very generously sponsored this year's awards.   "We celebrate them because they are excellent examples of the spirit of patient advocacy, and they are acting to ensure the respect of sarcoma patients' rights, to reduce inequities and to improve development of drugs and treatments," explains Ornella.  SPAGN created the award five years ago to honor outstanding practices, projects, initiatives or campaigns, and the individuals working behind these activities.
Telemedicine in remote areas of northern India
Sandeep Kumar, who won the first prize, is one such individual. In 2020, he started to provide remote healthcare in a rural area of northern India. When he was eleven years old, Sandeep himself was diagnosed with Ewing sarcoma. He underwent chemotherapy, had a bone transplant, suffered lots of pain and missed one year of schooling.  He later studied sociology and social work, took management courses and was trained in oncological care. In 2016, Sandeep started to work with V Care – another sarcoma patient organization in India – where he created the first cancer survivor group for children.
During the COVID-19 pandemic, he realized that sarcoma patients in rural areas were not getting the treatment they needed. Sandeep had experienced himself how important and life-saving early diagnosis is.  But in most villages, it is difficult to have access to medical professionals and there is little awareness of health issues.  Sandeep contacted doctors he knew and asked them whether they would be willing to offer telemedicine. He used his savings to buy a laptop, a blood pressure monitor and other basic medical equipment to set up the first telehealth center in his village in Sant Kabir Nagar, in Uttar Pradesh. His brother and sister helped him. After a lot of ups and downs, what started as a family project has become a registered foundation with seventeen full-time staff and five interns.
The DigiSwasthya Foundation now runs the telemedicine project in five districts and has so far helped 25,000 patients. Since most of them cannot afford to pay, the Foundation decided to provide their services for free. Sandeep and his colleagues mobilized about 120 doctors who provide online consultation either on a pro bono basis or for a reduced fee. The Foundation depends on volunteers and on donations to cover their costs. The prize means a lot to Sandeep as it will help to bridge a current funding gap.  He hopes that ongoing negotiations will soon enable him to secure financing so that they will continue to be able to provide affordable and accessible healthcare services in rural communities by leveraging technology.
Sarcoma symptoms awareness campaign in France
One of the two second prizes was received by Angelika Sandakly on behalf of Info Sarcomes in France. They have produced three short videos that aim at improving early detection of sarcoma symptoms and at facilitating patient referral to reference centers from the very beginning.  In 2010, when Angelika's son Sami was thirteen years old, he was diagnosed with a sarcoma. He was treated and has shown no evidence of disease (NED) since 2016.  Both of them are active members of the French patient advocacy association Info Sarcomes. What troubled them was the general lack of awareness of sarcomas which can put lives in danger. Info Sarcomes wants to help people to identify the first signs of sarcomas and to develop the right reflexes, that is, to know what to do and what not to do. Getting the SPAGN award means a lot of recognition for them, which might help get attention for their awareness campaign, which is running on Facebook, Instagram and Twitter. They have already received several requests for translation of the videos.
A family trust to boost Spain's sarcoma specialists
On behalf of the Fundación Mari Paz Jiménez Casado, Alberto Martinez Gutierrez presented their project, which was also awarded a second prize.  In October 2012, his brother Javier set up a foundation with the full support of the entire family in memory of his wife, who had passed away from sarcoma.  It was clear to them that they could not be a big foundation, so they looked for a niche where they could add value. They decided to improve the lives of future sarcoma patients through research projects and the implementation of specialized training for healthcare professionals. For example, the Foundation provides scholarships for doctors to complete a Master in Sarcoma course offered by the Madrid European University and the Spanish Sarcoma Researcher Group (GEIS). It also sponsors the rotation of physicians to international reference centers. Although nurses accompany patients in the first line, they are often forgotten, finds Alberto. For this reason, the Foundation also supports nurses so that they can participate in courses on oncology nursing for sarcoma patients.  The entity functions exclusively on the basis of private funding from companies and donations from individuals, and the family regularly organizes fundraising activities such as concerts or marathons.  "Receiving the award means for us a recognition that we have not wasted our time," says Alberto, "and that the concept is working".
Having a loved one with sarcoma deeply affects the entire family
Ornella Gonzato knows from personal experience that having a loved one with a sarcoma – or, more generally speaking, with a rare cancer – deeply affects the entire family. In February 2006, her sister Paola passed away as a result of osteosarcoma, only nine months after the diagnosis. "It was frustrating and extremely difficult to accept the fact that only limited treatment options were available, due to the rarity of the disease. It was then that I decided I had to do something to make sarcoma patients less invisible." To date, that "something" has amounted to fifteen years in advocacy as the founder and president of the Italian foundation that bears Paola's name and deals with every type of sarcoma except GIST, and to her work as a longstanding member and Board Member of SPAGN.
Selection process was not easy
For Ornella Gonzato, it has been an honor to serve as part of the jury consisting of patient advocates and experts that evaluated the projects. Twelve projects were submitted to the jury.  "Each of these projects is the result of a remarkable amount of work, in some cases providing its impact and benefits mainly to the local community and in others extending them on a larger scale," she says. "Choosing and ranking the top three was indeed not an easy task. Thank you to all participants."   Ornella decided to sponsor the awards as "a sign of my support and gratitude to SPAGN for its effort in making a difference for all sarcoma patients as well as in building a strong community, providing us all with the feeling of belonging to a "common home" by sharing principles and values."