Collaboration between CTOS and SPAGN
Kick-off of official collaboration between CTOS and SPAGN
In 2022, SPAGN and the Connective Tissue Oncology Society (CTOS) officially started a collaboration to address common issues and challenges and to jointly find solutions for them.
The focus of this collaboration is...
to identify problems, challenges, and unmet medical needs in sarcoma management, find solutions to improve the situation in collaboration with all relevant stakeholders
to raise awareness for sarcomas in order to facilitate early diagnosis
to support and strengthen treatment by specialist teams using consensus guidelines
to deliver research that is adequately funded, coordinated and patient-centered
From these fields of interest, the following shared goals have been defined:
Raise awareness of sarcoma
Identify and advance relevant knowledge
Define obstacles and challenges to improving sarcoma care
Advocate for research to deliver benefit to people with sarcoma
Contribute evidence-based consensus publications available worldwide
General Principles of Our Cooperation
Common objective: Ensure positive, constructive collaboration between CTOS & SPAGN
The relationship between CTOS & SPAGN will be positive and mutually beneficial
At inflection points, the patient-voice will provide useful insights to meet our mutual goals
Research and clinical questions relevant to the patient community will be identified by SPAGN and put forward as potential collaborative projects
Collaborative Work: CTOS-SPAGN Patient Advocacy Working Group
SPAGN and CTOS will establish a Patient Advocacy Working Group consisting of both Patient Advocates and Experts. Bernd Kasper will serve as liaison between both parties and represent the group within the CTOS Board of Directors.
In this group, SPAGN representatives will provide input from the patients' perspective, involve Patient Advocates with specific knowledge or interests where necessary, and put forward topics/projects that are relevant to patients.
Together, Patient Advocates & Experts will discuss needs, gaps and challenges and develop concrete projects.
Collaboration in sarcoma is key
Sarcomas are rare and are also difficult to diagnose and treat. This leads to many and varying challenges for those dealing with sarcoma compared with more common cancers. Collaboration improves outcomes. Partners can gain strength from finding common ground, sharing resources and working together, which they cannot do working apart or in competition with each other.
Patient advocacy in cooperation with experts and their medical/scientific societies can be a valuable partnership. This is particularly important in rarer cancers such as sarcomas. Collaboration is valuable for everyone.
First steps already taken: Global Patient Involvement in Sarcoma Care

In the context of the CTOS Annual Meeting 2021, we were holding a joint roundtable meeting on "Global Patient Involvement in Sarcoma Care".
Representatives of CTOS/experts & SPAEN/selected and experienced patient advocates discussed on gaps and challenges in sarcoma care and management from PAGs' and experts' perspective.
We have developed a joint expert-patient (advcoate)-publication highlighting and explaining gaps and challenges and how to overcome them together as well as a priority list of projects/deliverables to be worked on together over the next 5 years. Please find it here: Global Patient Involvement in Sarcoma Care 2022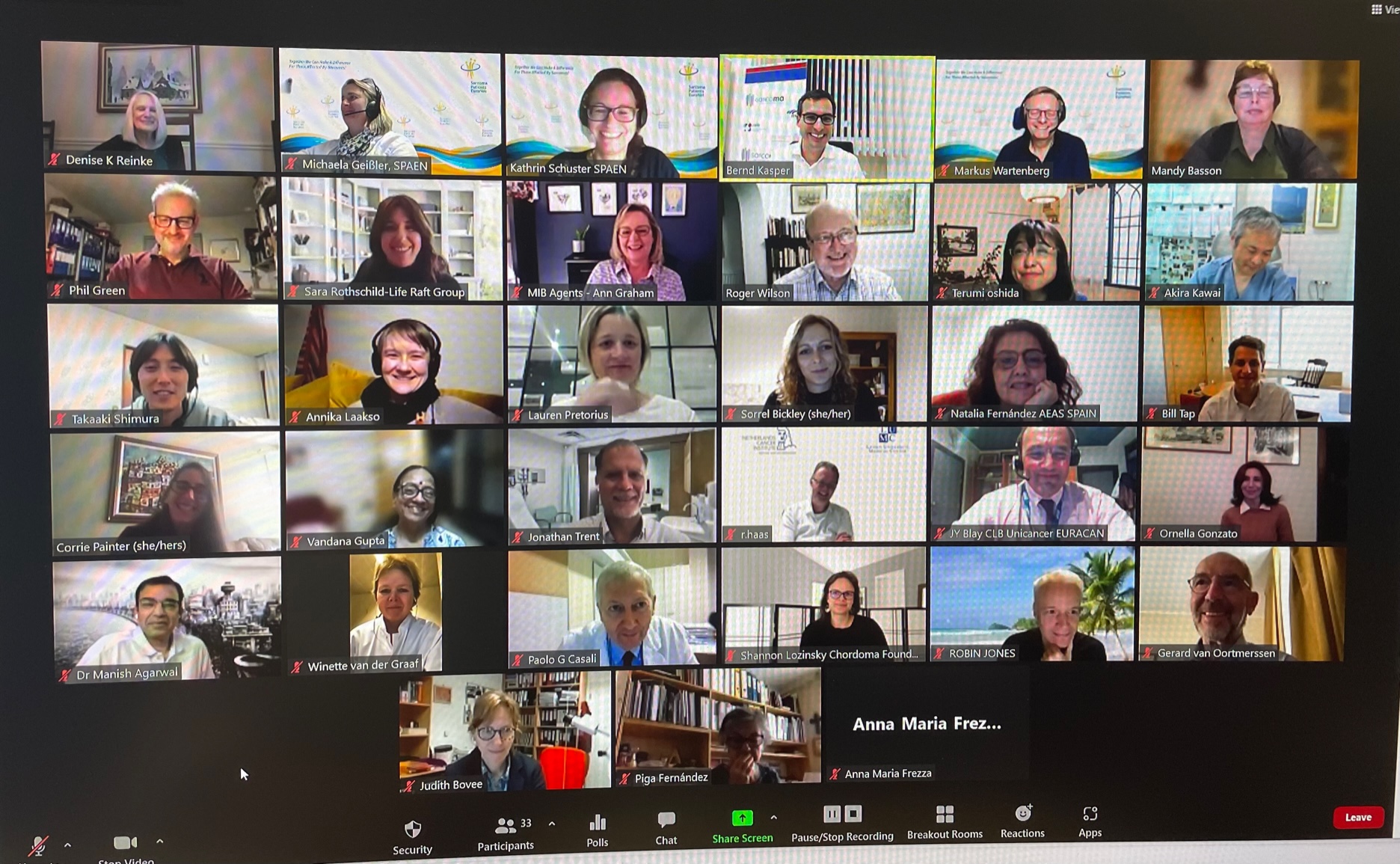 Host of the meeting was Professor Dr. Bernd Kasper, Germany on behalf of the CTOS Board as well as SPAEN on behalf of the global patient community.
Watch the roundtable discussion from November 9, 2021 here: