The diagnostic steps that need to be taken are similar to the ones in soft-tissue sarcomas: The first measure is the evaluation of the patient's medical history and a thorough clinical examination. However, when a lump is present, imaging tests are important to assist with diagnosis and so-called staging. Imaging processes create internal body images. Especially, computed tomography (CT) and positron emission tomography (PET) are of importance to determine the extent and activity of the tumour, both at diagnosis but also during therapy in order to evaluate the response to medications.
However, it is essential to make sure that the tumour really is a GIST, as treatment differs significantly from other soft-tissue sarcoma subtypes. Two main criteria determine whether a soft-tissue tumour is a GIST: First, the primary location of the tumour and second, mutations on the so called c-KIT-gene. The detection of this mutation some 15 years ago dramatically changed the understanding of this subtype and also led to a reclassification of sarcomas in the gastrointestinal tract.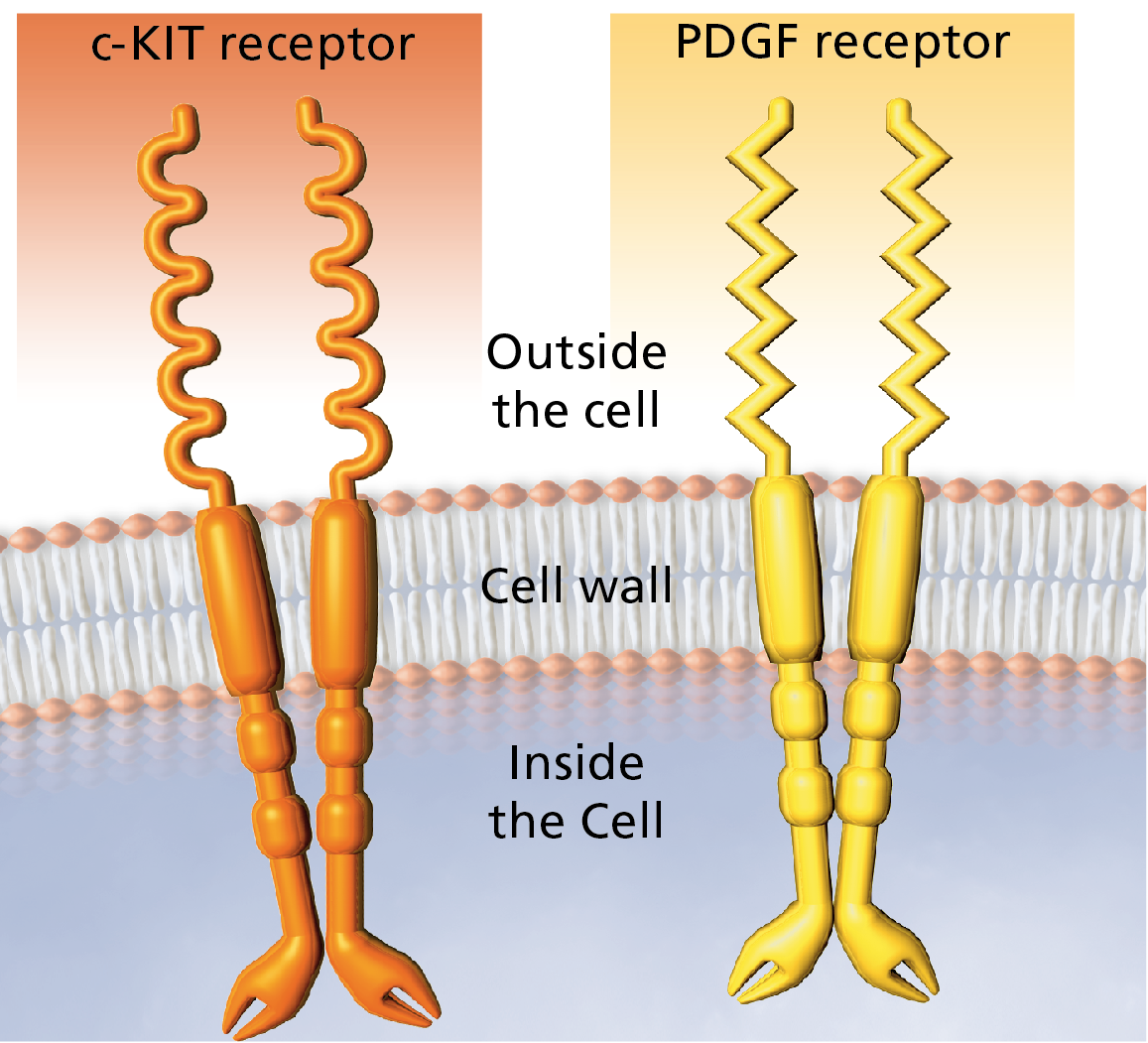 About 80-85 % of GIST show mutations in the KIT gene, while 5-10 % have mutations in the PDGFRA gene. 5-10% show – despite the most accurate GIST diagnosis – no mutations. This is the so-called wild-type GIST. Pathology plays a crucial role in the diagnosis of GIST and modern methods – among them histology, immunohistochemistry and molecular genetics – need to be applied as soon as a biopsy is taken. In the last couple of years, it became clear that treatment strategy also needs to be adapted according to the type of mutation found in pathology.
Mutation analysis
Mutation analysis - sometimes also called Genotyping or "Exon Identification" - identifies the location of the mutation in the receptor protein (e.g. c-Kit or PDGFRA). This is increasingly important for it aids in prognostication and assessing the course of the disease, prediction of efficacy, and selection of drugs and dosing. Further, it reduces the risk of both unnecessary adjuvant treatment as well as under-treatment and over-treatment.
Therefore, leading GIST experts and GIST patient organizations around the world stress that mutation analysis is crucial for optimal GIST therapy and management. In particular newly diagnosed patients should be informed of their mutation at diagnosis or at least soon after.