When the Patient Becomes the Researcher



Advocacy as a driving force for medical advancement
By DR. SYDNEY STERN, Biomedical Scientist and Patient Advocate.
An underdog disease
 Much of my life was filled with mobility difficulties that were dismissed by my doctors as part of growing up. As a patient with a rare tumor disease, what I have been forced to learn about being a self-advocate is a result of hard, inescapable truths that this disease has limited options, if any, and specialists are as geographically disperse as patients are.
I was diagnosed at the age of 17 with a locally-aggressive, non-cancerous, sarcoma-like disease known as Tenosynovial Giant Cell Tumor (TGCT), previously called Pigmented Villonodular Synovitis (PVNS). During that time, I was studying medicine and physiology. Of particular interest was a pharmacology class which overlapped with my first surgery. During that class, I learned about many drug mechanisms, from chemotherapies for cancer to analgesics for chronic pain. Alongside my studies, like many patients and caretakers facing rare diseases and sarcoma, I found myself getting a "Ph.D. and M.D. by Google and Pubmed" to understand what was happening.
The glaring name of the disease that was taking away my ability to walk was only conveyed through medical jargon in Magnetic Resonance Imaging (MRI), pathology, and post-operative reports. Those few letters, TGCT, changed the trajectory of my life, teaching me that through science, the unknown can become known.
At the time of my diagnosis, TGCT was characterized as a synovitis, an inflammation of the joint lining. Through science, advocacy, and advancement in medicine, the understanding of the disease and the paradigm of treatment transformed, so that TGCT fit into the realm of oncology and was treated by sarcoma specialists with targeted chemotherapies. This is due to the discovery of a molecular driver of the disease.
The collision of science and advocacy
Previously, advocacy and science had existed in two distinct silos, rarely coming into contact with each other. But something changed. While science pushed the boundary of the unknown and made things known, patient and physician advocates started demanding that something be done for this tiny group of oncology patients. Without the advocacy, the science would not have been translated into tangible treatment options.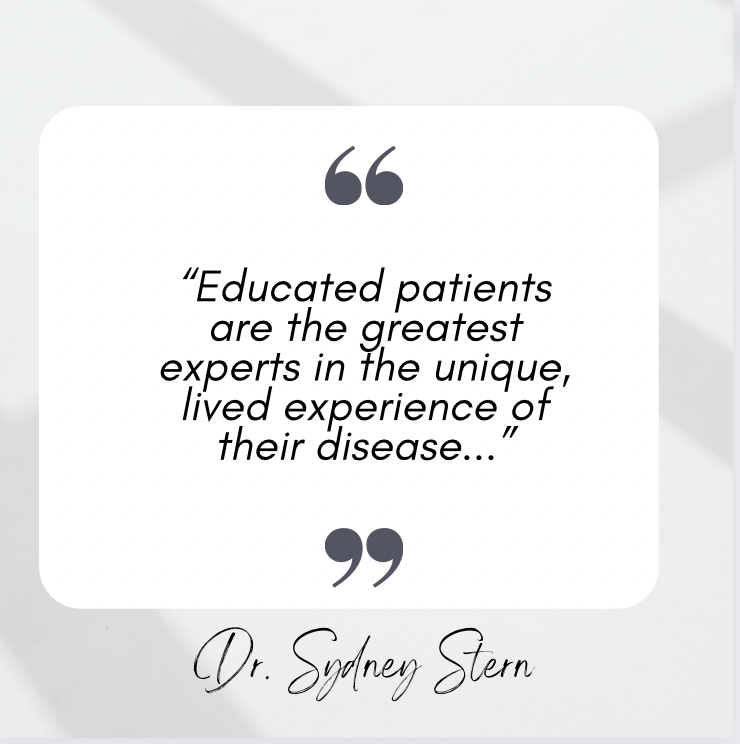 This was the first instance I saw advocacy being the driving force, a requirement, for medical advancement. This experience of advocacy being the catalyst for improved treatments and patient care was again evident when SPAGN, TGCT Support, Life Raft Group, and I collaborated to create an expert consensus paper on TGCT and an accompanying patient-friendly version.
Through my engagement with the TGCT community, it became clear to me that patients bear the burden of the disease, the financial hardship, and the emotional and social toll; they were the single most motivated group to change their own outcomes and prognosis.
Educated patients are the greatest experts in the unique, lived experience of their disease, and can enhance research design and execution. They may not understand all of the nuanced vocabulary which acts as a barrier to patients being involved in their care, but they understand the impacts of the disease and can guide the formulation of research questions, so that they truly capture and quantify that experience.
Without patients acting as the pin cushion for medical progress, there would be no progress.
Prioritizing the patient voice as part of the scientific method
That realization made me feel empowered: Patients can be part of the design, analysis, and interpretation of research from benchtop to bedside. I vowed to prioritize the patient voice as part of the scientific method, but not just as a box to be checked under the guise of "patient engagement". Sometimes this is easier said than done, but patients who have a seat at the table have contributed to the approval and discovery of many treatments. Their contributions are based on the acknowledgement that patients are capable of determining the level of risk they're willing to incur given that the prospect of direct benefit exists, that they are provided with a reasonable amount of information, and that they have the ability to discuss it all with friends, family, doctors, and peers.
It's time for science to shake off the dusty old image of a laboratory in a dark basement with a mad scientist behind some beakers. Scientists must be engaged and invested in the community they serve, even those scientists who only work with tissue samples without ever meeting a patient.
How can patients get involved in research?
Here are 5 steps that you can take to play a role in the research of your own disease.
Expand your health literacy, improving your ability to communicate and make decisions about your own health. This will strengthen your confidence to ask providers questions about your care and beyond, and even to discuss hypothesis-generating ideas, such as the symptoms that have the greatest quality of life impact and trends within the disease population. Patient involvement aids in the development of more targeted research that provides benefit to the community afflicted with the disease.
Acknowledge the circumstances you are in and do the best given those circumstances. In my situation, as a scientist, the best I could do is science. While science may not be fast enough to change my situation, it is the best I could do. Whether you fill out surveys from advocacy organizations, go onto clinicaltrials.gov and participate in trials, or raise awareness with social media posts, do the best you can, within your capabilities. Sharing your lived experience facilitates collaboration and you'll never know who will find you by sharing.
Get involved in research through patient advocacy groups or organizations for your disease. There are many forms of collaborative efforts which allow patients to share their experience for researchers to gain insight into their experience. Patient advocacy groups cultivate the network and community of patients, caregivers, and clinicians which become prime opportunities for research. Ask advocacy organizations directly if there are opportunities to share experience and participate in research.
Help develop educational programs for the community or your hospital. Through content created by patient advocacy groups and avid patient advocates, educational programs can be created within institutions and communities to promote awareness and drive research in your disease. For example, ask your treating physician if you can leave pamphlets for other patients or if there's any opportunities to internally share your experience.
Donate tissue samples after surgery. Institutions keep samples for long periods of time, and many offer you the opportunity to donate your samples to the physician/laboratory. This is especially common for academic cancer centers.
Patients are key to the development of research projects
Patient engagement and involvement in research can take many forms. The winning combination of raising awareness for the disease and promoting research is deeply reliant on patients sharing their experiences. You, as patients, are the key to the development of research projects and are a living embodiment of the impact treatment advances can have on your life, care, and future. Your story has power to change, motivate, and inform science and medicine.
---
Bio: Dr. Sydney Stern, Ph.D., M.S., a biomedical scientist and Director of TGCT Support, a program of the Life Raft Group. Its mission is to enhance treatment options and quality of life for patients with Tenosynovial Giant Cell Tumor (TGCT). Stern specializes in the discovery and development of treatments for rare diseases and cancers. She has authored numerous scientific publications, directed programs for cancer centers to improve bidirectional learning of early-stage clinicians/scientists and patients, served on multiple advisory boards for TGCT and patient advocacy groups, and is deeply involved in the rare disease and TGCT community.
Disclaimer: The opinions and views expressed in this blog are solely those of the author.