I Lost My Son and Found My Purpose


A sarcoma group in Bulgaria working to bring about change
By Lidiya Vitanova, Founder of Together Fighting Sarcoma, with Amy Bruno-Lindner, Editor of Voices of Sarcoma
---
Lidiya Vitanova founded the Bulgarian sarcoma organization Together Fighting Sarcoma in 2022. Her story is one of great loss but also of great determination to bring about change in her country. It shows what one individual can accomplish when facing daunting challenges. The founding of Together Fighting Sarcoma can be seen as an inspiring response to personal tragedy, but it should also be understood against the backdrop of health care disparities in Europe: While some nations boast advanced medical facilities and comprehensive cancer care programs, others struggle with limited resources and unequal distribution of medical expertise, leading to inequalities in diagnosis, treatment, and outcomes for individuals affected by sarcoma.
Voices of Sarcoma editor Amy Bruno-Lindner spoke with Lidiya about her personal experience and her work as a sarcoma patient advocate.
Note: Some responses have been edited for clarity.
---
Amy: Tell us about your organization.
Lidiya: Together Fighting Sarcoma is the first organization in Bulgaria dedicated to sarcoma. It was founded in May 2022 after my family and I had faced the osteosarcoma diagnosis of our 15-year-old son, Niki.
At the time, we found out that primary bone and soft tissue sarcomas in both children and adults are not well known in Bulgaria. The treatment Niki was given was not working. And so many mistakes were made during his treatment – there was a delay in diagnosis, a delay in starting the chemotherapy treatment (it took 43 days between the biopsy and the start of treatment), as well as a lack of full examinations and scans of the whole body to find out if he had metastasis.
Besides that, the doctors' attitude was awful: there was a total lack of empathy. The doctors did not want to answer questions or speak with the patients or their relatives. None of the doctors consulted with colleagues from other countries to find out how they could change the treatment plan to make it more effective. We had to go to another country so that our child could receive adequate treatment and the necessary attention and care. Niki passed away in October 2021.
That's why we created Together Fighting Sarcoma. The main aim is to help people with sarcoma, especially those who are trying to find the right medical specialist, the correct treatment for their disease, as well as emotional support.
There are seven of us in the organization – three of us are on the Board and the rest are part of the General Assembly. After one year, we already had almost 600 members in our closed Facebook group. The group members exchange information, share feedback about their treatment, and also ask for support, if needed.
As a first step, we created a website where people can find all the information about sarcoma in one place. There are actual patients' stories, which can be helpful for those who are facing the diagnosis now and don't have any idea where to start. In one year, our website has been visited by 10,000 unique users, which is quite impressive for a small country like Bulgaria and for a rare disease like sarcoma.
Amy: Can you describe your motivation to become a patient advocate?
Lidiya: The strongest motivation for me is the desire to help people avoid the mistakes we made. If we can save the life of even one child, it would be the greatest reward!
Everything we do is in loving memory of our son – Niki. It is easy to see yourself as a victim, but it is harder to try to change the system. The road is rough, but someone should be ready to travel it.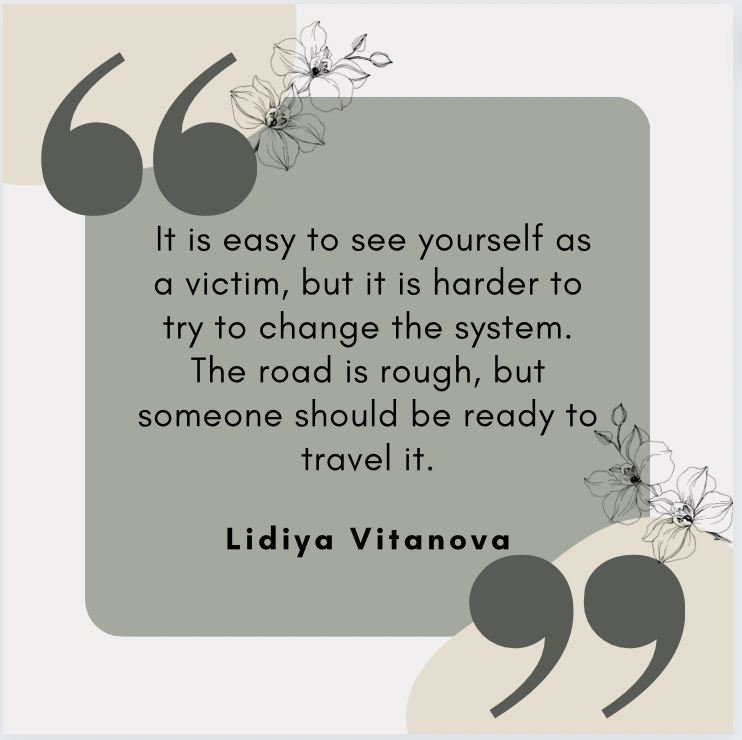 Amy: What kind of advocacy work do you personally dedicate yourself to?
Lidiya: I started by gathering information from all over the world from all kinds of sources – other sarcoma organizations, scientific journals, big oncological organizations, and to translate it into Bulgarian. The patients in our country need to know what sarcoma is, what the symptoms are, what they should do after a diagnosis.
The next step was for our organization to become a member of leading European and international sarcoma and oncological organizations so that we have access to the latest research results, new treatments, clinical trials, etc.
Following this, our aim was to find medical specialists here in Bulgaria who are interested in working with sarcoma patients. Together we started working in the direction of becoming part of the biggest international sarcoma consortiums and to apply the new standards of treatment here in our country. This process is ongoing – we just started.
Meanwhile I am constantly working with patients who need advice, support, information or anything else.
Amy: What do you see as your most important achievement in your advocacy work so far?
Lidiya: Our organization is only 1 year old. In this short time, we have already managed to do a lot. The most important thing is the information we already have.
The other meaningful achievement is the contacts we have – with doctors, with other patient organizations, with organizations outside Bulgaria.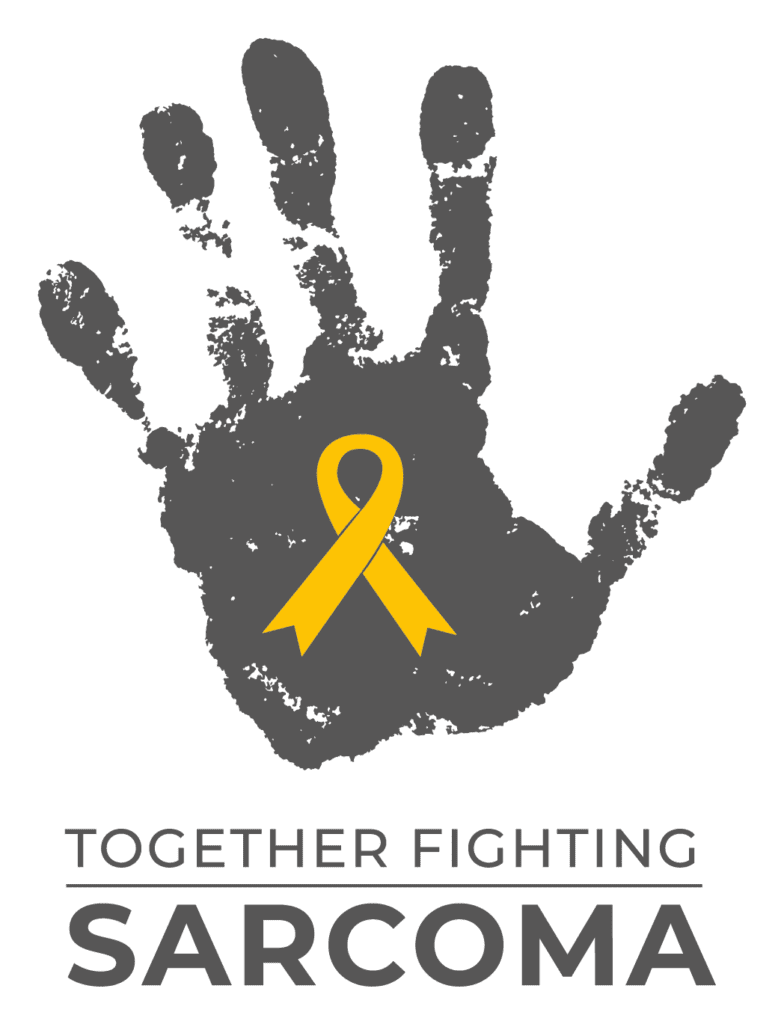 We have alerted Europe to what is happening in Bulgaria – the lack of specialists, the unwillingness of doctors to work with patient organizations, the lack of actual registers, the fact that survival rates of oncological patients is critically low, especially those with sarcoma and rare cancers.
In Bulgaria no one speaks about childhood cancer. It is a taboo subject. No one helps parents who have lost a child. We want to change that, and we are working in this direction!
Our organization launched a program providing psychological support for children with sarcoma and their parents completely free of charge. We developed this program together with another non-profit organization dedicated to children with onco-hematological diseases. Everyone who has faced such a diagnosis knows how important this kind of support is.
Amy: What relationships are important to you in your advocacy work?
Lidiya: Our contacts and relationships with people are among the most important parts of our advocacy work. No one can achieve something alone. We have to work together in order to be more powerful and to be able to insist that some things change.
During the first year, I was looking for any kind of cooperation and wanted to build relationships with people who can help us achieve our goals.
It was hard for me to go back to the hospital where my son was treated and to be face to face with the doctors who made all the mistakes and practically killed him (or at least this is how I feel about it). But I went there to speak with them and to ask them what they would need to get better outcomes for sarcoma patients.
Amy: What goals have you set for yourself or your organization? What are the biggest hurdles you have to overcome?
Lidiya: Together Fighting Sarcoma was founded with a few clear goals:
To work to raise awareness of sarcoma. To help people not to be scared to learn about this type of childhood cancer -- it's better to be informed and to know what to do than to hide and pretend these diseases don't exist. The more you know, the earlier the diagnosis could be made, the better the outcome could be.
To work with medical specialists. To find those who are ready to collaborate with us as a patient organization and to work together for better treatment and improvement of survival rates of sarcoma patients and all rare cancer patients.
To make the state work towards establishing a specialized expert center for sarcomas and other rare cancers, where patients can be treated adequately, in a timely manner, and where clinical trials, genetic testing, etc. can take place.
To work with young medical specialists and to finance their specialization abroad, so that they can improve their knowledge and then apply it in Bulgaria.
To help people with information, support, knowledge.
The biggest challenge in Bulgaria is to change the way doctors think – patent organizations are not their enemies. We have to work together for better outcomes!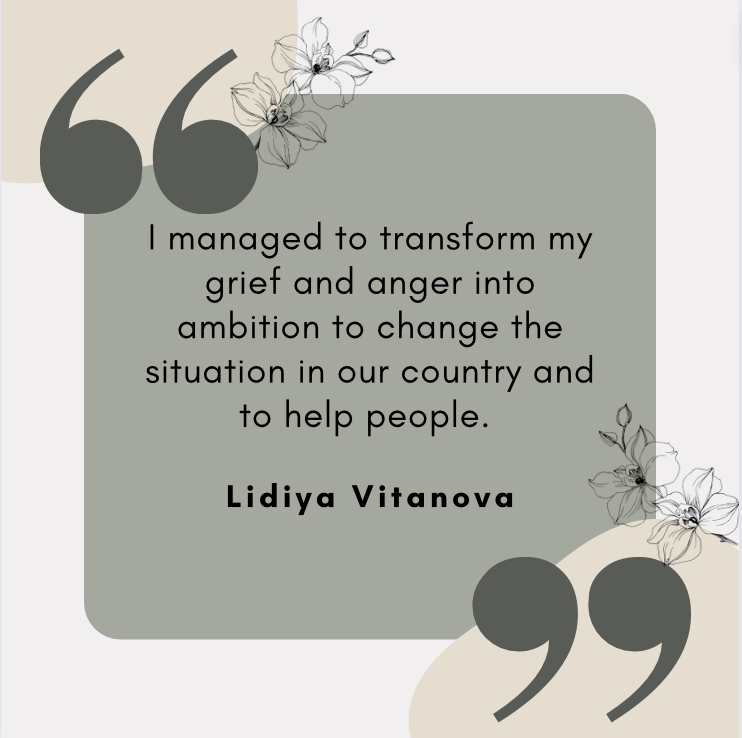 Amy: Which moment in your advocacy work do you remember most vividly?
Lidiya: The first memorable moment was when the association received the documents for its registration, when I saw that it is already a legal entity. Then I felt that I am doing something. I said to myself "This is for you, Niki! We will fight this evil for you!" I was very enthusiastic.
The other moments I remember are every time we prevented someone from making a mistake that we had made. Every time someone calls me and says everything is going well, we just got good news from our medical team, it is really rewarding.
Amy: What do you do best in your advocacy work? What is your advocacy superpower?
Lidiya: My superpower is that I am full of energy and fully dedicated and convinced about what I am doing. I managed to transform my grief and anger into ambition to change the situation in our country and to help people. Each person I have helped is as if I have helped my own child to survive!
I know where I am going, and I know I will do whatever is needed to achieve it.
Bio: Before her son's diagnosis, Lidiya worked in Marketing & Communications; she has held senior marketing positions in big multinational companies. Now her professional life is connected exclusively to her organization, Together Fighting Sarcoma.