Looking back on 2022 and ahead to 2023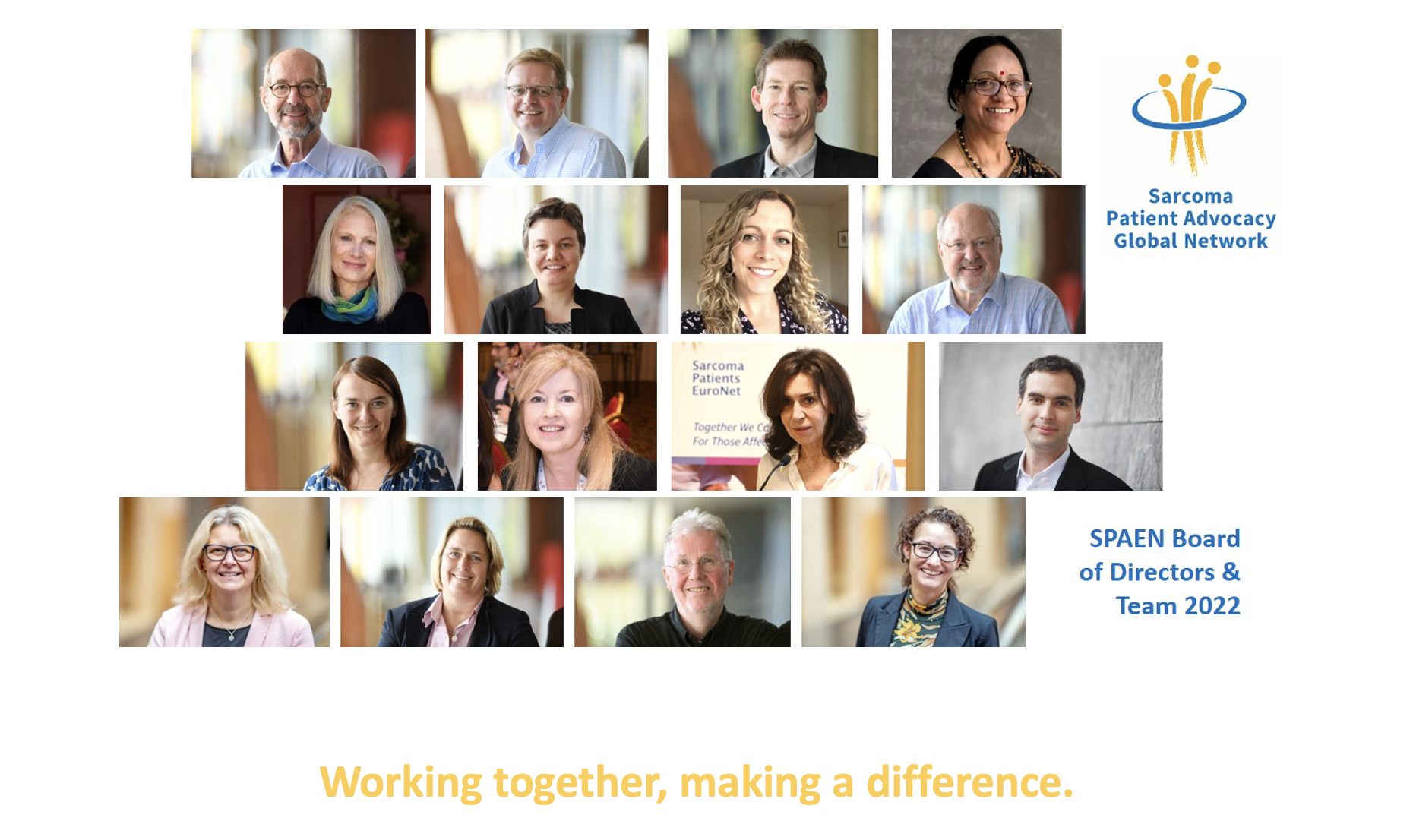 How was 2022 for your organization? What accomplishments are you proud of?
We at SPAGN are looking back at what we have done in the past year to impact the treatment and survival of sarcoma patients. We also want to look ahead to our plans for the near future.
What a year it was! For SPAGN, 2022 was shaped by the strategic planning process we went through: We established a new mission and vision, revised our values, and reassessed and adjusted our strategic goals.
We are proud to announce that we have forged new cooperations and intensified existing relationships with key stakeholders.
And, as always, we have worked to bring the patient voice to sarcoma research, improve patient access to qualified care, support our Member Groups and engage as many countries as possible in realizing our vision and mission.
Some Highlights of 2022
Looking back, 2022 was a year of change and growth for SPAGN. Here are some of the highlights:
We are now called SPAGN (the G is silent) and we have a new website!
To reflect the global work that SPAEN/SPAGN has already been doing, the member organizations of SPAEN voted to rename the association to Sarcoma Patients Advocacy Global Network (SPAGN) in June. In the context of this change, our website was revamped and given a new, global URL. Have a look!
We entered into a cooperation with the Connective Tissue Oncology Society (CTOS)
In November 2022, SPAGN and CTOS officially announced their collaboration: Two globally active organizations are joining forces. During the CTOS Annual Meeting 2022, SPAGN represented the patient advocacy community at the official part of the meeting, hosted a Patient Advocacy Hospitality Lounge, held a "Meet the SPAGN Board" session as well as a SPAGN Patient Advocacy Reception. Watch our video here.
We participated in ground-breaking roundtables & consensus meetings
In 2022, we worked on a Global Consensus Meeting Initiative for Tenosynovial Giant Cell Tumors (TGCT) with the aim of developing and publishing a truly global, joint expert-patient advocate consensus paper -- it will be published early 2023 in "Cancer Treatment Reviews".
Also in 2022, the third annual Leiomyosarcoma Research Roundtable was once again held in cooperation with our US member group, the National Leiomyosarcoma Foundation (NLMSF). Nearly 70 international experts participated to join forces in order to improve the situation for LMS patients.
Real Change Results from Gradual and Steady Efforts
In 2022 we continued to work on our core operations. This list of SPAGN's ongoing operations reflects the steady, continual effort we invest in long-term projects to bring about meaningful and lasting change:
Participating in clinical trial design processes at the early stages.
Partnering with three EU-funded sarcoma research projects: EuroEwing Consortium (EEC), EuroSARC and SELNET as well as FOSTER.
Serving as a member of ESMO, Rare Cancers Europe, ESO Masterclass, WeCan, ECCO, EORTC, EMA, etc.
Contributing to pharma industry working groups on research, treatment adherence and how to become more patient-centered, etc.
Attending major medical conferences such as CTOS, EMSOS, EORTC-STBSG, ASCO, ESMO.
Continuing our intense collaboration with ESMO, CTOS, EORTC-STBSG and intensifying cooperation with EMSOS and SARC.
Supporting and mentoring newly established national sarcoma patient groups.
Serving as a driving force in training courses for patient advocates, such as EORTC Research Course, WeCan, SmartStart, etc.
Participating as an active member of Rare Cancers Europe (RCE), a multi-stakeholder initiative dedicated to putting rare cancers firmly on the European policy agenda.
Supporting the European Reference Networks (ERNs) dealing with rare solid tumours as a member of the EURACAN consortium.
Some of Our Special Activities and Projects in 2023 and Beyond
The SPAGN Annual Conference: Since 2010 SPAEN/SPAGN has held annual conferences bringing sarcoma groups, experts, pharma and researchers together. The three-day conference focuses on research and treatment, advocacy, and capacity building. In 2023, the SPAGN Annual Conference and the New Horizons GIST meeting will be held in conjunction for the first time.
SPAGN Annual Conference 2023: May 11-13, 2023
New Horizons GIST 2023: May 13-15, 2023 in Dublin, Ireland
New Webinar Series: SPAGN established two webinar series for patient advocates for sharing and learning online. The recorded webinars are accessible on our website. Read on.

Coffee Chat gives SPAGN Member Groups the opportunity to learn from expert patient advocates in an interactive online setting about practically relevant advocacy-related topics.
Knowledge Spot is a source of highly accessible information on medically-related topics for well-informed, knowledgeable non-specialists
Patient-Powered Research Network (PPRN): SPAGN will continue its work with this group, which consists of experienced patient advocates with a strong interest in research who want to make clinical trial design more patient-centered. Phase I was completed in 2020/21 and the results published in 2022 in ESMO Open. The results of Phase II will be published in 2023.
Roundtables/Task Forces: SPAGN is organizing further Consensus Roundtables, which bring medical experts and experienced patient advocates together. Planned for 2023:
5th Leiomyosarcoma Research Roundtable: with the National Leiomyosarcoma Foundation, USA, in Q3/4 2023
Desmoid Tumor Working Group: Update of the current consensus guidelines, June 2023, Milan, Italy
Sarcoma Awareness: In 2023 SPAGN wants to focus on key messages in our social media activities. But with diseases like sarcomas/GIST, it doesn't make sense to try make the whole world aware of them, as they are far too rare. Rather, it is important to define exactly what awareness means for sarcomas and GIST. One example: Early/correct diagnosis and multidisciplinary treatment in specialized Sarcoma Centers are essential -- patients need to understand that their prognosis and survival may depend on expert care.
Multidisciplinary Sarcoma Expert Centers: SPAGN is working to make sarcoma expertise visible. Since sarcomas are rare, is very important to find physicians who have expertise and experience with this disease. Ideally, patients will be treated by a multidisciplinary sarcoma medical team at a sarcoma center consisting of all specialties, including surgeons, medical oncologists, radiation oncologists, diagnostic radiologists, pathologists, oncology nurses and rehabilitation services.
Global List of Sarcoma Centers: SPAGN is compiling a list of sarcoma centers or centers with sarcoma expertise in countries around the world. We want to develop this further with a database linked to an interactive global map. If there is no sarcoma center in a country, we want to provide a sarcoma-experienced physician as a contact point for patients.
Advocacy Tools, Mentoring and Outreach: As a network, SPAGN wants to help our members provide their patients with up-to-date and reliable information, lead their organization in the best possible way and advocate for sarcoma patients. For this reason, we are building an online library that will provide documents and videos on different capacity-building topics. We also offer individual mentoring to encourage patients to establish new groups.
Sarcoma Information Platform: In many countries, there is no patient group that can help patients with unanswered questions. SPAGN is developing an information platform that will provide basic information on sarcomas, therapy concepts, clinical trials and current studies.
Bone Sarcoma Community: SPAGN is building a strong bone sarcoma community through developing relations with Bone Scientific Societies, organizing roundtables with experts, acting as a qualified partner in European or international projects, and helping bone groups or charities to create a network of contacts for sharing information and activities.
With Our Best Wishes for the New Year!
It has been quite a year! We look forward to continuing our work in 2023 and thank you for your support and cooperation.
The SPAGN Board of Directors & Team