Fighting for Sarcoma Patients in Ireland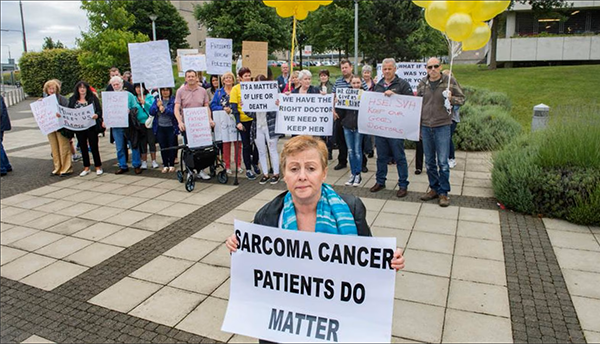 The inspirational story behind Sarcoma Cancer Ireland - a battle from the start
BY KELLI APPEZZATO
BOARD MEMBER AND FOUNDER OF SARCOMA CANCER IRELAND
Ireland's only sarcoma charity and patient support group was created in quite an unusual way. In June 2016, news emerged that the employment contract for the country's only medical oncologist consultant specialising in sarcoma had not been renewed and the care of sarcoma patients was to be transferred to other oncologists, who had little to no knowledge of this rare cancer. With a relatively small number of patients in the system – approximately 250 people are diagnosed with sarcoma each year in Ireland – the hospital did not see the need for a dedicated service and wanted instead to merge the patient cohort with other clinics.
A lonely battle to keep the country's only sarcoma specialist
Individually, patients and their families contacted local politicians and the national media to raise awareness about the issue and lobby for support. Through the reach of social media they connected online and decided to meet as a group to discuss their options. The first patient meeting was held in June 2016 and consisted of only six patients. That night, the Sarcoma Action Group was formed with the only objective being the reinstatement of their specialist oncologist. The group quickly grew and over the next few weeks close to 40 families were involved and were regularly using a WhatsApp chat group to communicate.
We contacted the national cancer service, with the hope that they would offer their support to our battle. However, they chose to remain neutral and would not comment publicly on the situation. We were completely alone, a small group of patients trying to effect change within the health service. It was a modern day David and Goliath story.
Public protests, red tape, and at last – success!
In July 2016 a series of public protests were held over a 3-day period, which garnered national media attention and forced the Minister for Health to agree to a meeting with the patient group. A representative panel met with the Minister the following week, and at that time he agreed to create a brand new, permanent position for a specialist sarcoma oncologist based at St Vincent's University Hospital in Dublin, where most patients were already being treated.
Delighted with the action that the Minister had taken, and thinking that their specialist would be reinstated without delay, the patient group celebrated and thought their work was done. What followed was four years of red tape and bureaucracy that would see the position remain unfilled and the care of sarcoma patients transferred to oncologists who specialised in other cancers. Sarcoma patients were absorbed into clinics which were already close to capacity and many travelled abroad, seeking second opinions from sarcoma specialists in other countries.
This was a very uneasy time for sarcoma patients as they were now under the care of doctors who specialised in breast cancer, prostate cancer, lung cancer, and the like. Despite these issues, the oncologists involved worked incredibly hard to ensure that the standard of care did not falter and they consulted with colleagues abroad when needed. Our name changed from Sarcoma Action Group to Sarcoma Ireland, to be a voice for all sarcoma patients.
In the background, the patient group continued to communicate with the Minister for Health and the hospital involved, ensuring that the permanent post was not forgotten and that the Minister's promise would be honoured. The incoming sarcoma specialist finally commenced work in September 2020, four years after the Minister for Health had created the post.
The focus changes - creating an official charity
Social media was an integral way of reaching all sarcoma patients around the country, spreading the word about the incoming specialist and encouraging people to join the WhatsApp group for peer support. We also used these pages to raise awareness of sarcoma and highlight patient stories. Engagement rapidly grew and we attracted thousands of followers from Ireland and abroad. Sarcoma patients from other countries began contacting us, looking for advice and support.
Once the sarcoma medical oncologist was in place and the sarcoma service was back up and running, our focus turned to what was missing – a dedicated charity designed to support Irish sarcoma patients and their families, and advocate for early diagnosis and best clinical practice.
We looked across the Irish sea to our friends in Sarcoma UK, who were so generous with their time and advice, and with their help we took the first steps to setting up our fledgling charity. We also connected with other charity groups within Ireland, to fully understand the complexities and responsibilities of running a national organisation. At the suggestion of our friends in Sarcoma UK, our name changed again from Sarcoma Ireland to Sarcoma Cancer Ireland. This was due to the fact that sarcoma was so unknown and that without the word 'cancer', many people would not understand what it was.
At the time of writing this article, in May 2023, Sarcoma Cancer Ireland is a registered non-profit CLG (Company Limited by Guarantee). Our charity status is pending, but expected within the next few months after our application is processed by the Charities Regulator of Ireland.
North and South
In the Republic of Ireland, the care of sarcoma patients is managed by the Health Service Executive (HSE). In Northern Ireland, the National Health Service (NHS) is responsible. Even though there are two health systems on the island of Ireland, cross border initiatives see some patients given the option of being treated in both regions. Whilst the financial support and fundraising for our charity is focussed exclusively south of the border, our patient support extends to the entire island and encompasses our fellow sarcoma warriors in the north. The exchange of information between people, north and south, is an integral component in the support of patients and their families.
The future of Sarcoma Cancer Ireland
After nearly two years of planning and development, we have successfully launched the following services:
monthly online support group with a registered counsellor
once-off payment of €350 for adult patients, to help with costs associated with treatment
annual patient conference with clinicians as guest speakers
one-to-one counselling service
Seven working committees have been established, managed and run entirely by volunteers who have been touched by sarcoma:
Advocacy & Education
Compliance & Risk
Finance
Fundraising
CAYA (Children, Adolescent & Young Adult) Support
Communications & Public Relations
Our ambitious five-year plan includes:
Patient roadshow to travel to all regions within the country
Fully funded nurse-led support line
Education program for General Practitioners to encourage earlier diagnosis
Cooperation with governmental partners to influence health policy and create a standard of care for all Irish sarcoma patients
Efforts to improve the transition for patients moving from paediatric to adult health systems, ensuring a continuity of care and support
Secured funding and lobbying for targeted sarcoma research
What started as a small group of patients protesting the loss of their specialist oncologist has evolved into a national charity which will support and advocate for sarcoma patients across the island of Ireland. Every person involved in the organisation has been personally affected by sarcoma and brings with them intimate knowledge of how a rare cancer impacts families.